School of Physical Chemistry 2023 - Frontiers in Materials Physical Chemistry: Nanostructures and Nanomaterials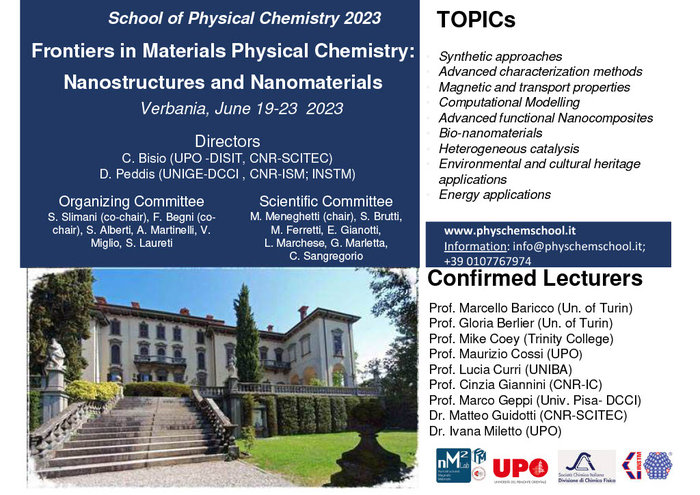 Dear Colleagues,
We have the pleasure to announce you the edition 2023 of National School of Physical Chemistry, which will take place in Villa San Remigio, Verbania, on June 19h – 23th, 2023 (web site).
The National School of Physical Chemistry is a yearly event promoted by the Physical Chemistry Division of the Società Chimica Italiana (Italian Chemical Society) (web site) covering fundamentals and advanced topics in Physical Chemistry. The School is addressed to Italian and foreigner graduate and PhD students, as well as to post-doc and young researchers. It consists of a five-day training of lectures provided by prominent scientists active in today's research covering the field of nanostructures and nanomaterials, from synthetic approaches to advanced characterization methods, and giving the latest insights into up-to-date aspects and applications of nanostructured materials with special emphasis to nanocomposites, bio-nanomaterials, heterogeneous catalysts, environmental, cultural heritage and energy applications. To promote the dissemination of science, the School also includes an evening event of divulgation character.
The edition 2023 of the School will be organized by researchers of the Nanomaterials Group (NanoMAT) of the Department of Science and Technological Innovation (DISIT), University of Piemonte Orientale of (Alessandria)and of the Nanostructured Magnetic Materials group, nM2-Lab (DCCI - University of Genova and Institute di Struttura della Materia – CNR) and it will be held at Villa San Remigio, in the beautiful setting of the Maggiore lake.
Attached you can find a flyer of the school, including Topics treated and confirmed lecturers.
The forthcoming important dates are:
Within January 30 th, 2023 – Second announcement (with defined program)
February 20th, 2023 – Open registrations to the school and abstract submission
May 7th, 2023 – Close early registrations to the school and abstract submission
June 19th, 2023 – School starts
Your sincerely,
Director of the schools
Chiara Bisio, (DISIT-UPO; )
Davide Peddis (DCCI-UNIGE; CNR-ISM; INSTM),
Chair of the scientific committee
Prof. Moreno Meneghetti