Primo Levi Award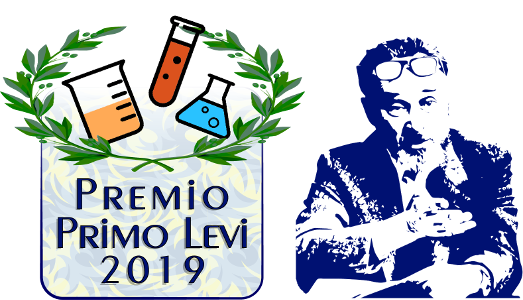 The Board of SCI Giovani launches the new edition of the Primo Levi Award, to be assigned to a young SCI member author of a research performed in Italy, original and of wide interest in the Chemical Sciences, published on an international scientific journal in its final version in the timespan January 1 ‒ December 31, 2019.
-- APPLICATIONS ARE NOW CLOSED --
THE FINALISTS
The SCI Giovani Board has granted 10 candidates access to the second evaluation step of the Primo Levi Award, which is being performed by a commission appointed on purpose with SCI members and Italian scientists working abroad.
Each finalist has produced a short video to show their work in a concise and original fashion.
Here the 10 finalists of the Primo Levi Award 2019! Good luck to all of you!

Serena ARNABOLDI (UniMI)
Thiahelicene-based inherently chiral films for enantioselective electroanalysis
Chem. Sci. 10 (2019) 1539-1548
Video (ITA) | Article

Carlo BRAVIN (Univ. Cambridge)
A diastereodynamic probe transducing molecular length into chiroptical readout
J. Am. Chem. Soc. 141 (2019) 11963-11969
Video (ITA, subENG) | Article

Rosaria BRUNO (UniCAL)
Multivariate Metal–Organic Frameworks for the simultaneous capture of organic and inorganic contaminants from water
J. Am. Chem. Soc. 141 (2019) 13601-13609
Video (ITA) | Article

Luca CAPALDO (UniPV)
Visible light uranyl photocatalysis: direct C–H to C–C bond conversion
ACS Catal. 9 (2019) 3054-3058
Video (ITA) | Article

Stefano CORRÀ (UniBO)
Chemical on/off switching of mechanically planar chirality and chiral anion recognition in a [2]rotaxane molecular shuttle
J. Am. Chem. Soc. 141 (2019) 9129-9133
Video (ITA) | Article

Giuseppe DILAURO (UniBA)
Water and sodium chloride: Essential ingredients for robust and fast Pd‐catalysed cross‐coupling reactions between organolithium reagents and (hetero)aryl halides
Angew. Chem. Int. Ed. 58 (2019) 1799-1802
Video (ITA) | Article

Matteo LANZI (UniPR)
Visible‐light‐promoted polycyclizations of dienynes
Angew. Chem. Int. Ed. 58 (2019) 6703-6707
Video (ITA) | Article

María Del Carmen MARÍN-PÉREZ (UniSI)
Fluorescence enhancement of a microbial rhodopsin via electronic reprogramming
J. Am. Chem. Soc. 141 (2019) 262-271
Video (ITA) | Article

Simona RANALLO (UniROMA2)
Orthogonal regulation of DNA nanostructure self-assembly and disassembly using antibodies
Nat. Commun. 10 (2019) art. no. 5509
Video (ITA) | Article

Vincenzo RUSSO (UniNA)
Self-activating catalyst for glucose hydrogenation in the aqueous phase under mild conditions
ACS Catal. 9 (2019) 3426-3436
Video (ITA) | Article
WALL OF FAME
► Primo Levi Award 2018
Winners:
Luka Đorđević (UniTS, Chemistry of Biological Chemistry)

Design principles of chiral carbon nanodots help convey chirality from molecular to nanoscale level
Nat. Comm. 9 (2018) art. no 3442
Video | Article

Eleonora Macchia (UniBA, Analitical Chemistry)
Honorable mentions:
Serena Bertoni (UniBO, Pharmaceutical Technology)

pH and reactive oxygen species-sequential responsive nano-in-micro composite for targeted therapy of inflammatory bowel disease
Adv. Func. Mater. 28 (2018) art no. 1806175
Video | Article

Stefano Crespi (UniPV, Organic Chemistry)

Tuning the thermal isomerization of phenylazoindole photoswitches from days to nanoseconds
J. Am. Chem. Soc. 140 (2018) 2940-2946
Video | Article

"The Most Popular Video"

Carla Rizzo (UniPA, Organic Chemistry)

List of finalists | Call for Applications (ITA) | Final report (ITA)
---
► Primo Levi Award 2017
Winners:
Claudia Bonfio (UniTN, Chemistry of Biological Systems)

UV-light-driven prebiotic synthesis of iron-sulfur clusters
Nat. Chem. 9 (2017) 1229-1234
Video | Article

Daniele Martella (UniFI, Industrial Chemistry)
Honorable mentions:
Riccardo Rigo (UniPV, Medicinal Chemistry)

Conformational profiling of a G-rich sequence within the c-KIT promoter
Nucleic Acids Res. 45 (2017) 13056-13067
Video | Article

Sergio Rossi (UniMI, Organic Chemistry)

Stereoselective catalytic synthesis of active pharmaceutical ingredients in homemade 3D-printed mesoreactors
Angew. Chem. Int. Ed. 56 (2017) 4290-4294
Video | Article

"The Most Popular Video"

Francesco Tavanti (UniMORE, Theoretical and Computational Chemistry)

List of finalists | Call for Applications (ITA) | FInal report (ITA)
---
► Primo Levi Award 2016
Winners:
Alessia Amodio (UniROMA2, Analitical Chemistry)

Giovanni Valenti (UniBO, Electrochemistry)
Honorable mentions:
Francesca Arcudi (UniTS, Chemistry of Biological Systems)

Synthesis, separation, and characterization of small and highly fluorescent nitrogen-doped carbon nanodots
Angew. Chem. Int. Ed. 55 (2016) 2107-2112
Video | Article

Matteo Atzori (UniFI, Inorganic Chemistry)

Quantum coherence times enhancement in vanadium(IV)-based potential molecular qubits: the key role of the vanadyl moiety
J. Am. Chem. Soc. 138 (2016) 11234-11244
Video | Article

"The Most Popular Video"

Anna Laura Capriotti (UniROMA1, Analitical Chemistry)

List of finalists | Call for Applications (ITA) | Final report (ITA)
---
► Primo Levi Award 2015
Winners:
Cristian Pezzato (UniPD e CNR-ISTM, Organic Chemistry)

Transient signal generation in a self-assembled nanosystem fueled by ATP
Nat. Commun. 6 (2015) 7790
Video | Article

Letizia Monico (UniPG, Chemistry of the Environment and of Cultural Heritage)
Honorable mentions:
Giulio Ragazzon (UniBO, Inorganic Chemistry)

Light-powered autonomous and directional molecular motion of a dissipative self-assembling system
Nat. Nanotechnol. 10 (2015) 70
Video | Article

Chiara Samorì (CIRI EA e UniBO, Organic Chemistry)

Dimethyl carbonate and switchable anionic surfactants: two effective tools for the extraction of polyhydroxyalkanoates from microbial biomass
Green Chem. 17 (2015) 1047
Video | Article

"The Most Popular Video"

Luca Catalano (PoliMI, Physical Chemistry)

List of finalists | Call for Applications (ITA) | Final report (ITA)
---
► Primo Levi Award 2014
Winners:
Alessandra Campana (CNR-ISMN, Physical Chemistry)

Electrocardiographic recording with conformable organic electrochemical transistor fabricated on resorbable bioscaffold
Adv. Mater. 26 (2014) 3874
Article

Alessandro Minguzzi (UniMI e INSTM, Electrochemistry)

Observing the oxidation state turnover in heterogeneous iridium-based water oxidation catalysts
Chem. Sci. 5 (2014) 3591
Article
Honorable mentions:
Andrea Idili (UniROMA2, Analitical Chemistry)

Programmable pH-triggered DNA nanoswitches
J. Am. Chem. Soc.

136 (2014) 5836


Article

Alberto Ceccon (UniVR, Organic Chemistry)

Dynamics of a globular protein adsorbed to liposomal nanoparticles
J. Am. Chem. Soc.

136 (2014) 13158


Article

List of finalists | Call for Applications (ITA) | Final report (ITA)
---
► Primo Levi Award 2013
Vincitori:
Francesco Pineider (UniFI e CNR-ISTN, Inorganic Chemistry)

Circular magnetoplasmonic modes in gold nanoparticles
Nano Lett.

13 (2013) 4785-4789


Article

Alessandro Porchetta (UniROMA2 e INBB, Analitical Chemistry)

Allosterically tunable, DNA-based switches triggered by heavy metals
J. Am. Chem. Soc.

135 (2013) 13238-13241


Article
Honorable mentions:
Denis Gentili (CNR-ISMN)

Logic-gate device based on printed polymer semiconducting nanostripes
Nano Lett.

13 (2013) 3643-3647


Article

Ivan Carnimeo (SNS e INFN)

Computational spectroscopy of large system in solution: the DFTB/PCM and TD-DFTB/PCM approach
J. Chem. Theor. Comput.

9 (2013) 2052-2071


Article

Call for Applications (ITA) | Final report (ITA)
---
► Primo Levi Award 2012
Winner:
Matteo Cargnello (CNR-ICCOM)

Exceptional activity for methane combustion over modular Pd@CeO2 subunits on fuctionalized Al2O3
Science

337 (2012) 713-717


Article
Honorable mentions:
Tommaso Avellini (UniBO)

Davide Ravelli (UniPV)

Alessandro Porchetta (UniROMA2)
---
► Primo Levi Award 2010
Winner:
Elisabetta Collini (UniPD, Physical Chemistry)

Coherently wired light-harvesting in photosynthetic marine algae at ambient temperature
Nature

463 (2010) 644-647


Article